Lawrence Fortin-Côté x Léo et Violette
Le Laurence is the result of a co-creation between Léo et Violette and the Canadian influencer Laurence Fortin-Côté. It was in 2018 that we started collaborating with Laurence around the creation of content. Several other partnerships followed, each time we particularly appreciated their sensitivity and uniqueness. His universe, made of a neat aesthetic and borrowed from a classic touch, has always resonated with the DNA of Léo et Violette. At the end of 2021, following a visit by Laurence to our Parisian Studio, we exchanged for the first time on the desire to develop a model in collaboration.Laurence's sensitivity, combined with the know-how of our workshops in Italy, made it possible to make this desire a reality.
"I have always been very creative and loved drawing from a very young age, which led me to study design architecture and then obtain a Masters in Fashion Design. From Toronto, where I have been based for 5 years, I have the chance to work with major fashion houses.
I got to know the Léo et Violette team during our years of collaboration and I must admit that there is nothing more inspiring than being able to work with people as passionate as yourself. I think that's what allowed this collaboration to be born in a natural way"
An elegant model drawn in Paris.
During the 15 months of development, the common thread has always remained the same: to offer a minimalist and timeless model, in a monochrome color palette. The specifications were clearly defined: a trapeze shape, a double lift, a structured base and an identifiable clasp.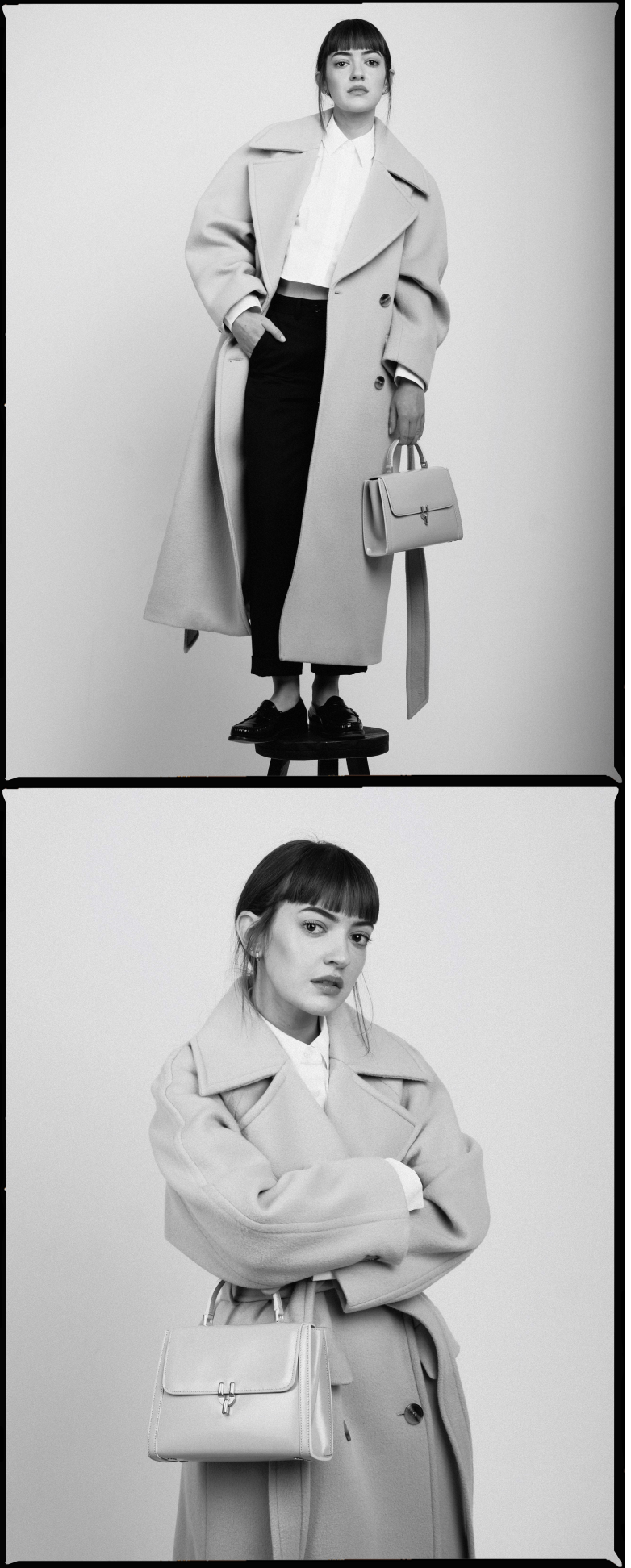 "I wanted to create a unique design that was inspired by the style of bags found in vintage fashion archives. I have a great passion for second-hand items, I love their nostalgic and poetic aspect, which is why I wanted to create a classic and timeless style"
*A form inspired by the 60s and the chic and vintage style of Laurence
Design
The choice of materials
To meet the desire to create a classic model, inspired by the 60s, we turned to mirror leather from our partner tannery Curtidos Castaner, in Spain. This calf leather, firm, thick and slightly varnished, gives Le Laurence its structure. The interior is fully lined in matte beige suede, providing an elegant contrast of materials.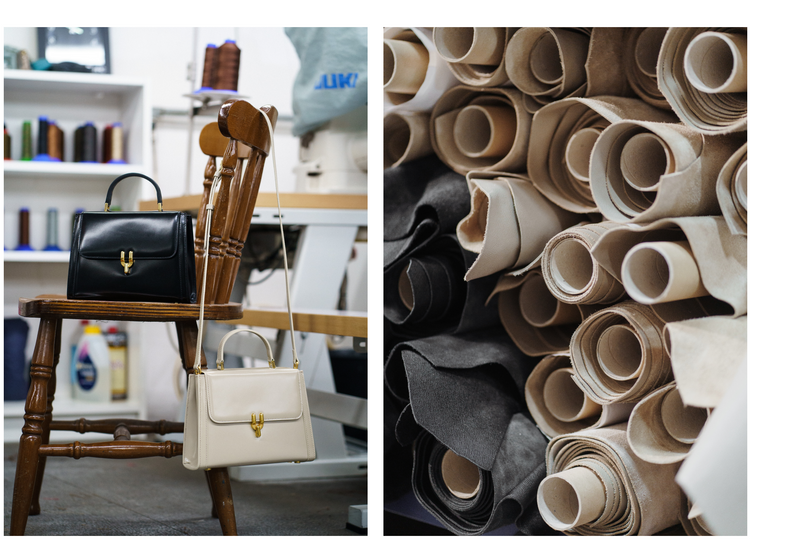 The capacity
How do you make a bag that looks small but isn't? It was the quest for Le Laurence bag. The result is a compact size (21x15x5cm) with a surprisingly containing interior. You can slip in an iPhone Pro Max, a compact wallet, a pocket book, a pair of glasses, your keys… In summary: Looks mini. But it's not.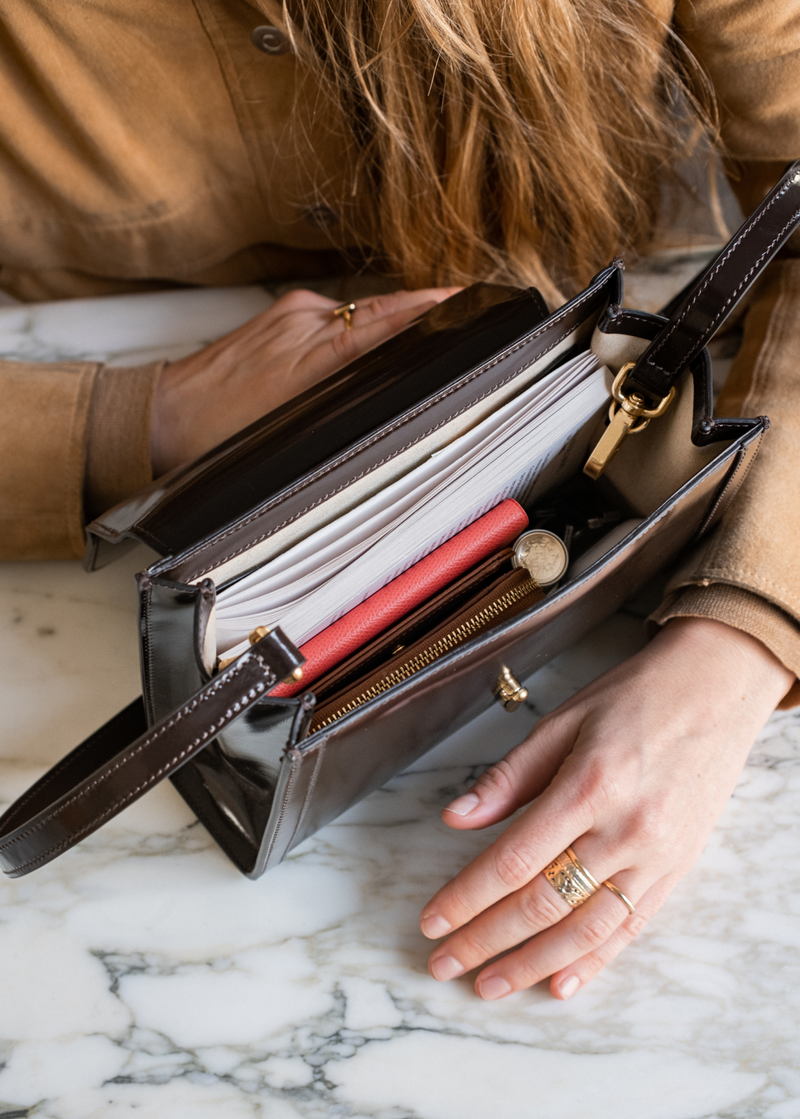 "What I have always liked about the different Léo et Violette bags that I have had is the possibility of using them in my daily life for very different occasions. I wanted Le Laurence to be in the same spirit. To use it during the day without worrying about whether my iPhone, my small accessories and keys would fit"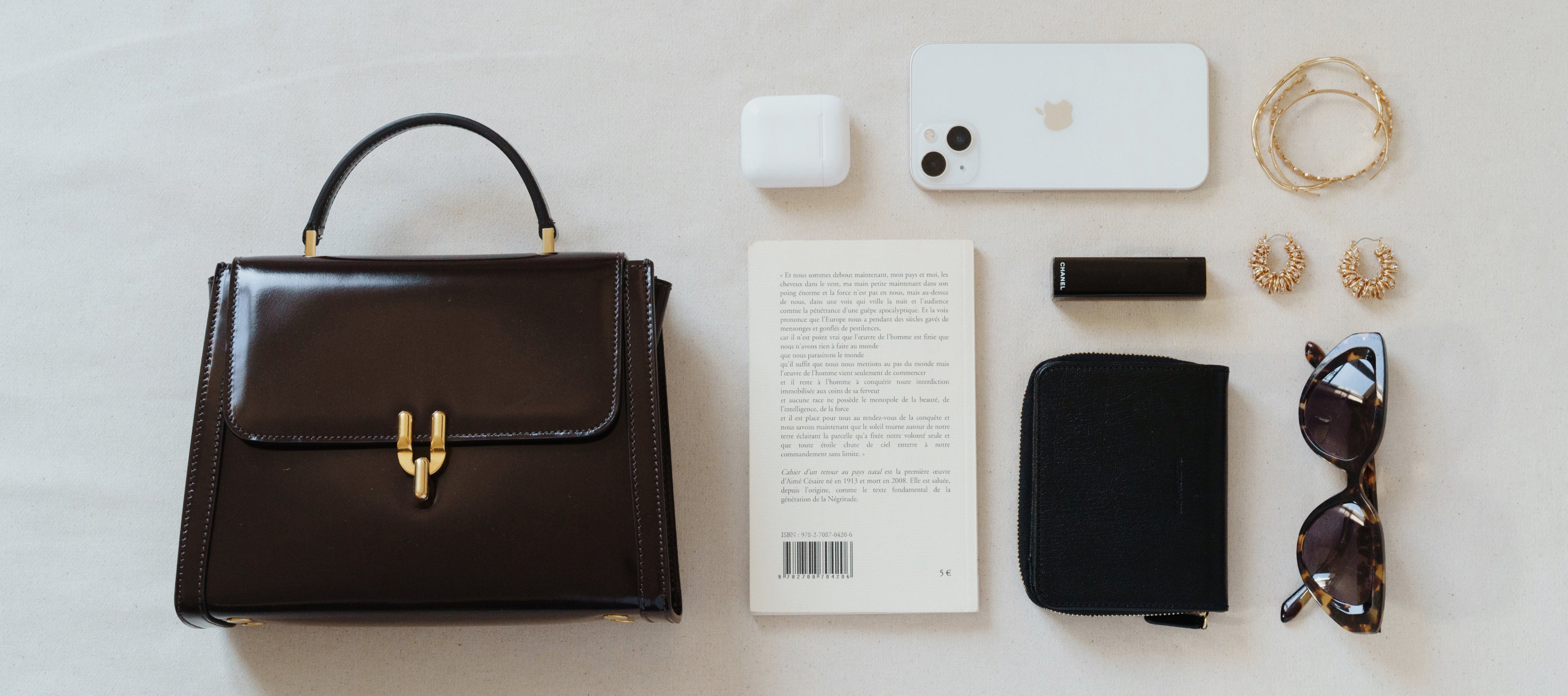 Handmade in Italy
From one model to another in our collection many factors change. Only one thing never changes : the attention paid to manufacturing. That's why Le Laurence, like the rest of our collection, is entirely made in Italy. Our workshop in Naples needs more than 0.7m2 of leather and 2h30 of workmanship to manufacture each bag. A craftsmanship that we wanted to photograph because it makes the beauty of this bag.
The collaboration's moldboard