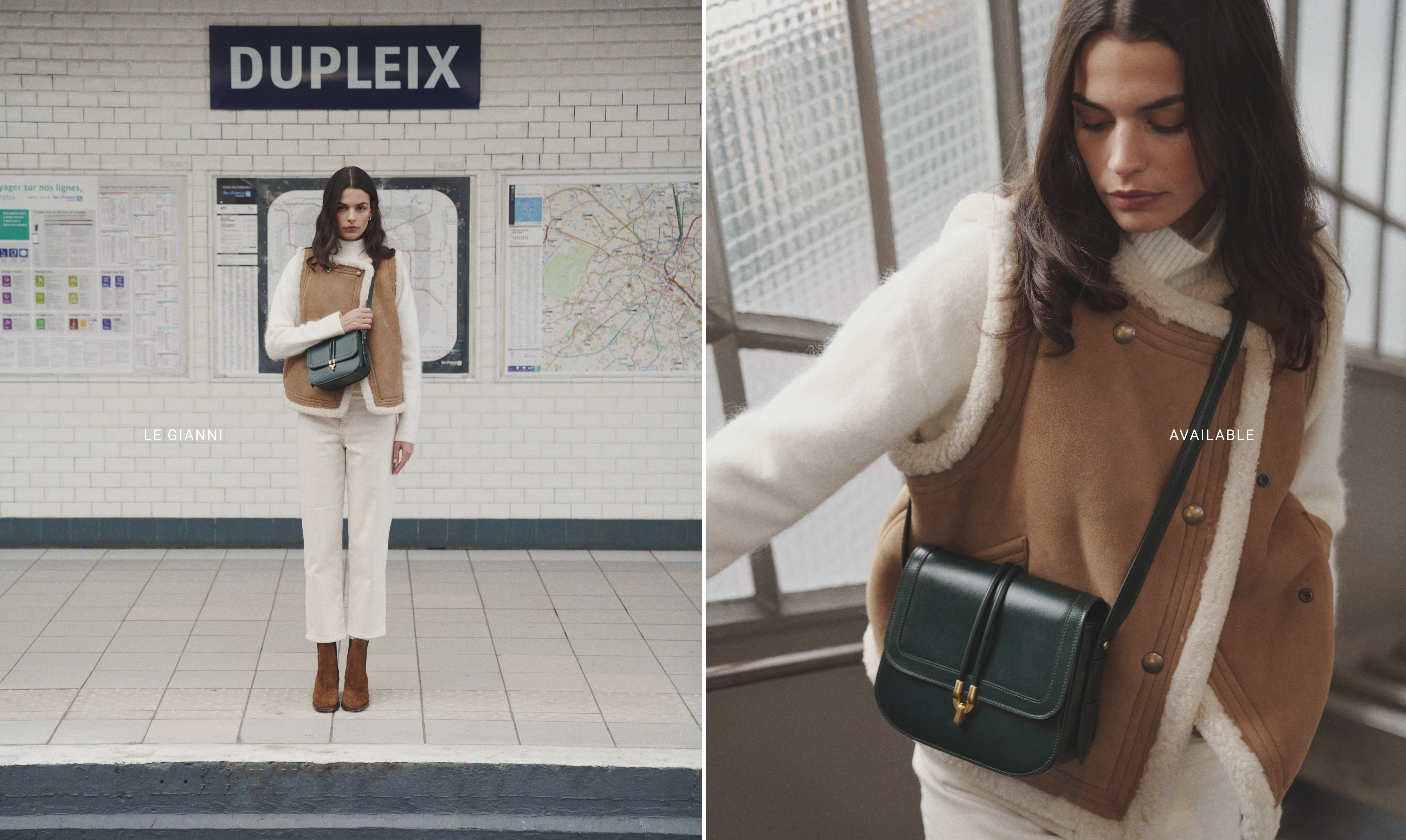 Discussions about
creation.
At Léo et Violette we design an average of 5 to 10 new shapes per year, sometimes only keeping one. When we introduce a new bag into our collection, it is therefore always a unique event.
Le Gianni is no exception.
First of all because it comes to re-invent and replace a best seller, Le Sienna. With its construction consisting of a central compartment and two straight-edged gussets, it takes up the emblematic design of "box" bags.
Then, because it is designed with a brand new clasp, created and industrialized hand in hand with our production workshop in Naples.
Finally, because Le Gianni is the result of nearly 10 years of experience. It corresponds to what you expect from a timeless model: elegance, without being overdressed. A structured base, without being rigid. A practical size, without being bulky.
Mathilde, leather goods designer at Léo et Violette details the creative process that led to the launch of Le Gianni bag:
"We were looking to design a bag with a long flap, which would have an important capacity, while remaining compact. Crossbody bag type quickly became obvious because it is an iconic and very practical shape, which corresponds to the DNA of Léo et Violette.
For me, a successful bag must be pleasant, even interesting, to look at, while being adapted to the use we plan to make of it. So I looked for a long time for the best possible construction to combine elegance and functionality"
An elegant model, imagined in Paris.
For the first time, we share with you all the drawings that allowed the creation of a new model. Structure, jewelry and custom-made clasp are all elements that have been carefully designed to allow our Italian workshop to give shape to Le Gianni's design.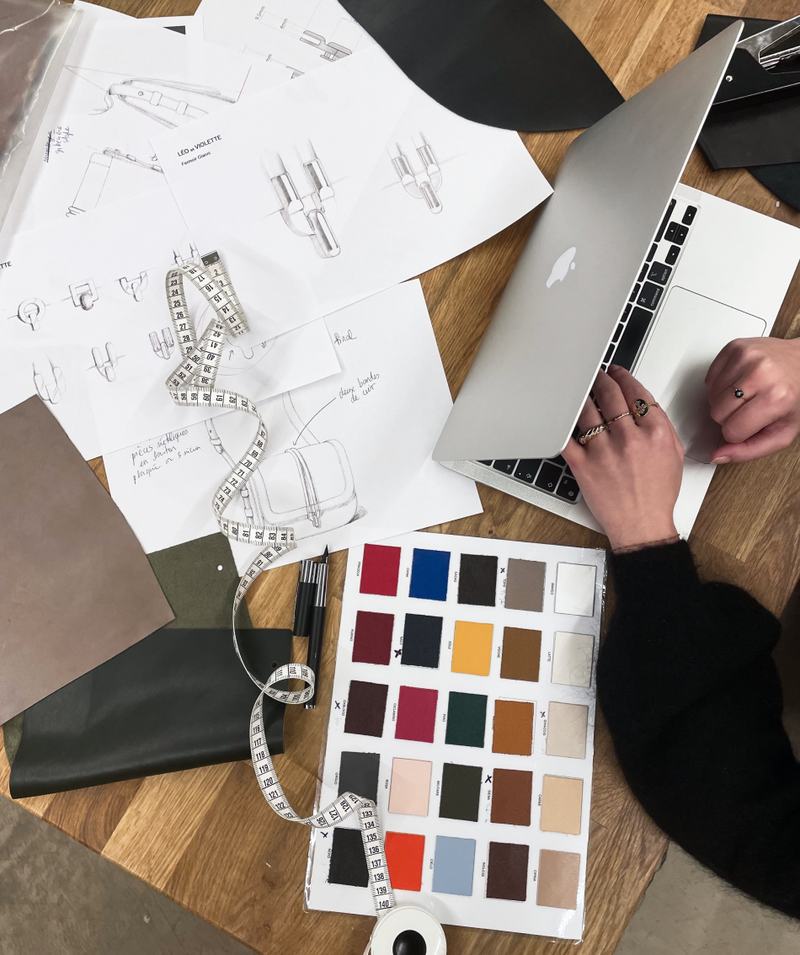 "A drawing in the leather goods industry must be as precise as possible. So I draw the bag from all sides, even the inside. We are closer to product design than to ready-to-wear".
A clasp
custom made.
This clasp is inspired by the shape of a tuning fork, a sentimental object in the personal story of Léo et Violette. We designed and machined its mechanism in close collaboration with our Italian supplier. The result is a brass clasp, unique and easy to use.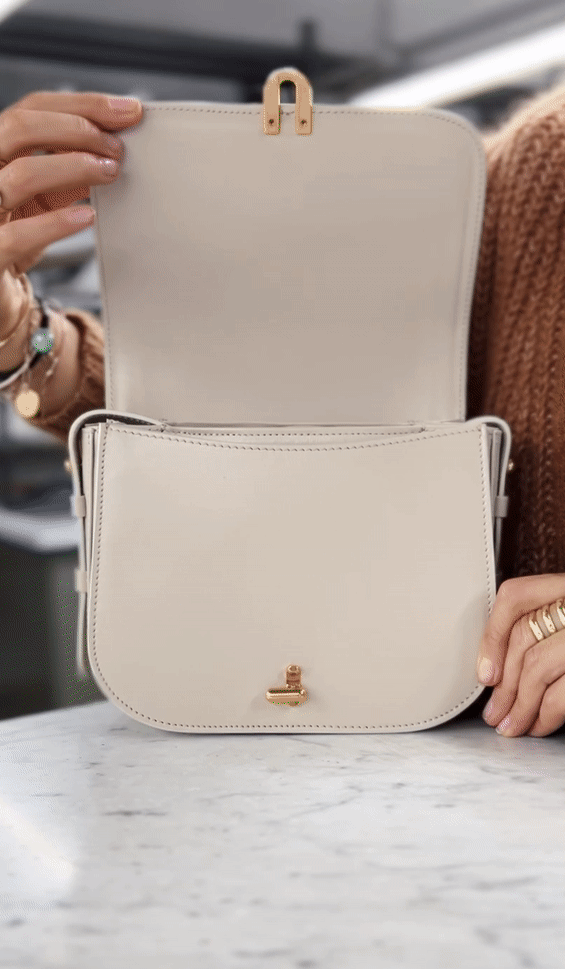 "This style of clasp with turnstile is typical of the 60s. I reworked it with leather details and using the shape of a tuning fork"
Le Gianni,
in numbers.
Many figures can illustrate all the steps necessary for the development of a new model like Le Gianni. From the number of prototypes manufactured, to the number of clasp tests, including the quantity of material required for the tests in the different colors, not forgetting the tests for the dyeing of the edges specific to each color.
So many hours spent working and then re-working in the hope of achieving the perfect result.
Now Le Gianni is ready and soon it will be with you every day. The journey that led to its creation will then have found its full meaning.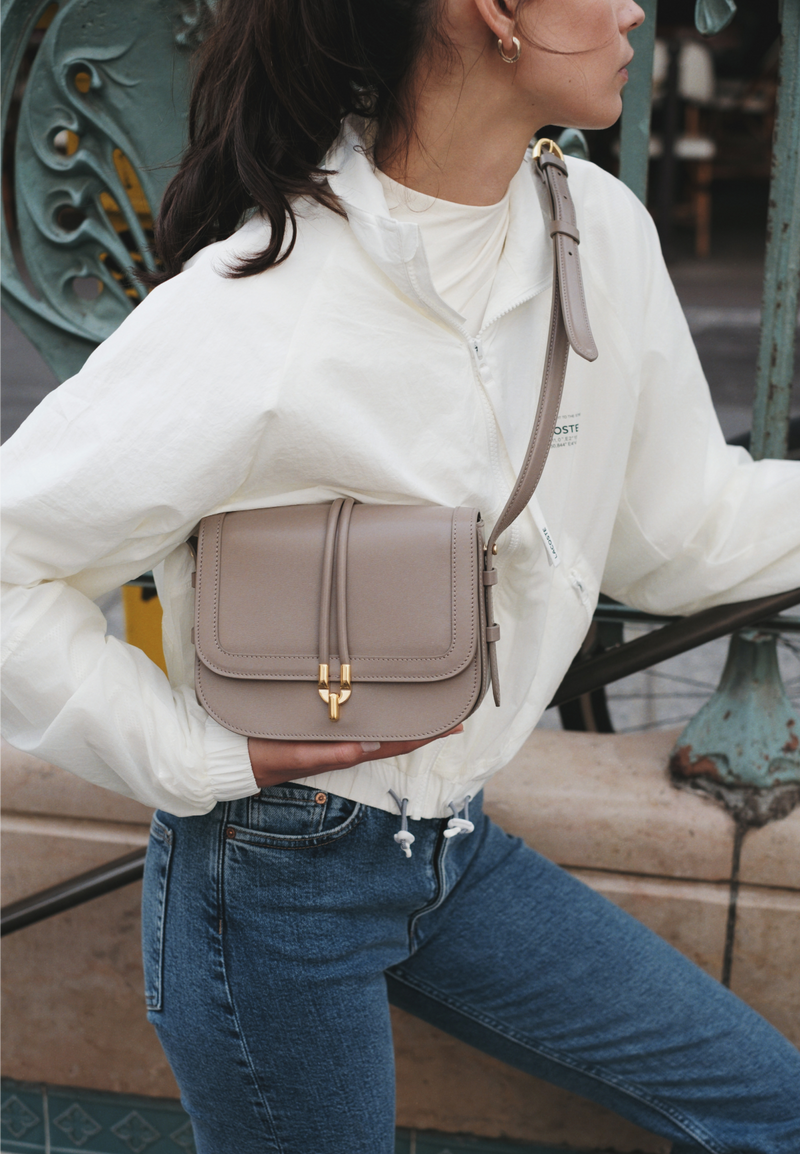 0.95

The number of m2 of leather required to manufacture a Gianni bag.

7

The number of craftsmen involved in making one example of the Gianni bag.

235

The number of days between the first drawing and the launch of the Gianni.
Handmade, in Italy.
For nearly 10 years we have been working with our Italian workshop where we manufacture all of our collections. Le Gianni, in the purest artisanal tradition, is also made in Naples, by hand, in high quality Italian calfskin.